Why Woffice? Constant flow of new features and improvements to build the best solution, for you: last update: February 14th, 2023 – See the online changelog, we listen and we act.
Compatible with WordPress 6.x and BuddyPress 10.x
Woffice is a feature rich, powerful Multipurpose Intranet and community WordPress theme.
5 reasons to get Woffice( there are 100 more, but we keep it short ).
Already trusted by 11,000+ organizations
Updated over 140 times
Completely flexible and compatible with latest WordPress brands
Translated in 15+ languages
Designed a fast web applications using latest technologies
All is wrapped with an easy-to-customize design inspired by Google's Material Design, giving it a beautifully modern feel and easy to navigate User Interface. Woffice is fully adaptable to a wide range of applications including Business & Government Intranets / Extranets, School Networks or any Community Network and Associations/Charities.
If you need a sure way to get started quickly and easily on your next awesome project, Woffice is what you need. Using the best CMS and its advantages to make you build something different.Easily.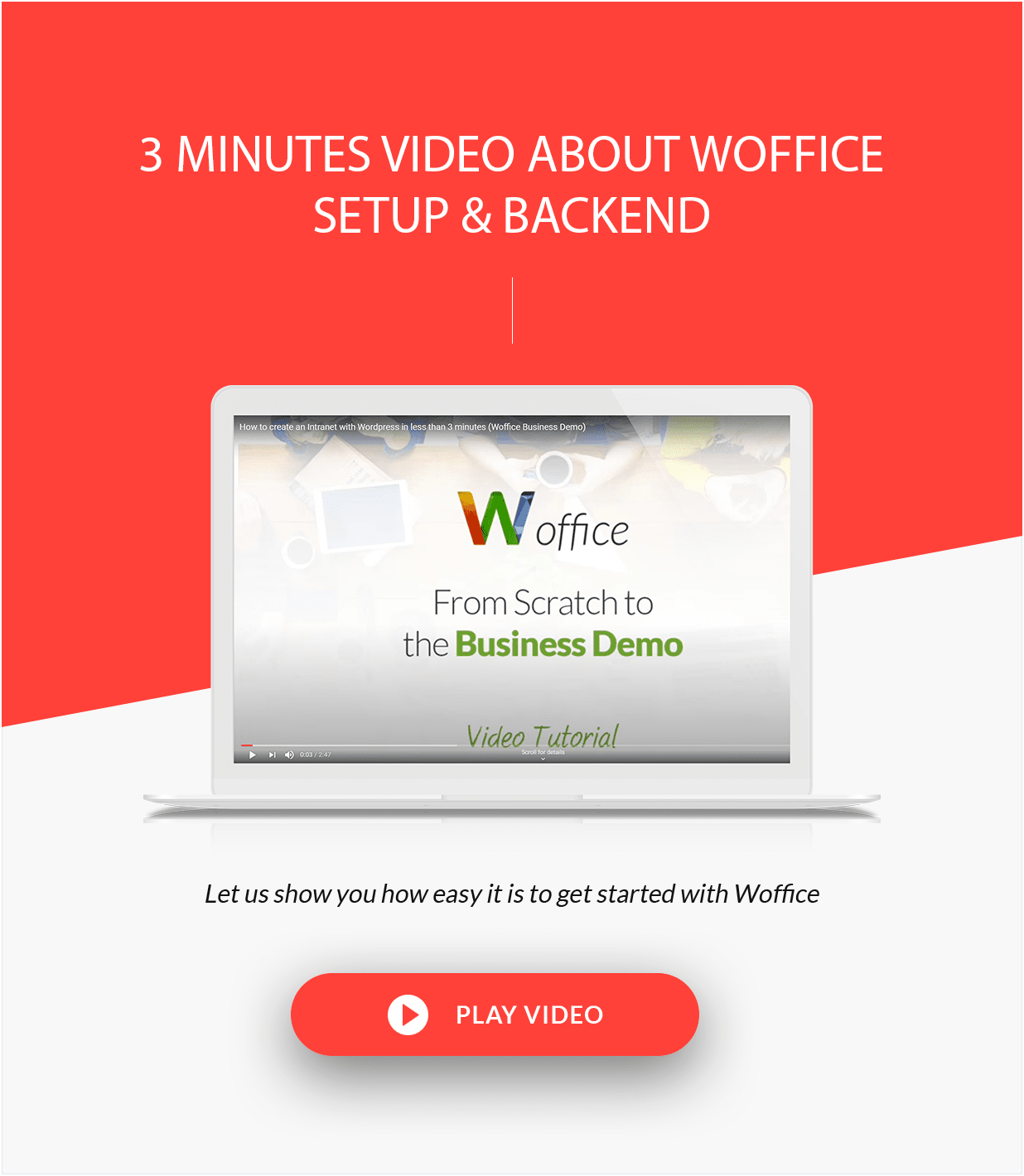 Built with the highest standards of Coding, and fully Responsive, it comes with: a complete Buddypress Network, Custom login page, Projects management, Wiki, Chat and messaging, Files Manager, Calendar, Directory Extension, Forum, E-commerce and so much more!
Build your own Social or Community Network, Intranet/Extranet, Project site with Member Logins, School Intranet, Forum or even a Wiki! It's all included in the one off fixed price! Everything you need to build anything you can dream up right out of the box.
Whether you want to create an Intranet, Extranet, Community or any web app. We believe, it should be accessible to anyone with experience or not on WordPress. Giving the right details to the right customer in order to provide an unique experience for your members with truly awesome features. That's our job on Woffice.

Features
(NEW) LearnPress (free plugin)

Create course
Manage course
Sell course

Buddypress Network

Members Directory (+ profile image, role, filter, unlimited custom fields with icons, you can hide some members types).
Complete Profile page (+ file manager per user, Custom Calendar…)
Activity stream & Groups
Custom user roles (built-in editor)
Friendship & Messaging (+ online chat)
User map, cover image (ajax powered with special integration!) …

Customization

Complete Theme Options (we add your options, there is 60+ options from your feedbacks)
Built-In extensions (Backup, Maintenance, Breadcrumb, Cover Image, SEO, Wiki, Projects, Birthdays, Funfacts, Poll, Directory, Users map…)
Menu with Icons (+ 600 available: Font Awesome)
Unlimited Colors & Fonts (+ Google Fonts included)
Adaptable Workspace (with settings for each user)
Logo, favicon management

Every device…

Fully Responsive
Web-App capable
HD Ready (retina)
Modern browsers compatible
Bookmark icons

Projects Management

Frontend edit
Time progress bar
Wunderlist, Ajax Todos
Task assignment (email notification)
Drag & Drop tasks from the frontend
File Manager (Multiverso & File Away)
Comments, tool links…
Buddypress activity synchronization
Buddypress groups synchronization

Made Easy

Demo Content included
Online documentation
7/7 Online Support
Regular updates
Online updater
Video Turorial
Online Changelog

Wiki-Knowledge

Frontend Edit/Creation
Categories (+ Sub categories)
Searchable
Comments & Revisions
Like Button

Calendar & Schedule

Includes EventON 80$ Saved
Includes WP Pro Calendar 32$ Saved
More than 200 features & options
User can add event (extra addon since 1.7.2)
Full Month calendar
Calendar Widget
Facebook import
Single page event with social sharing
Personal Calendar tab
1 Addon included for free

Files management

File Away integration (NEW) : FTP reader and better files manager. (new design too!)
Includes Multiverso 28$ Saved
Files revision & download
Built-in shortcodes
Permission management
Lightbox for images

Graphs, Forms & Pages

Contact form 7 integration
Visualizer (8 graph types)
Drag & Drop page builder
Gravity form support
Page options, Comments

Login / Register

Custom login page (options for the logo, background, color, content…)
Option to make your website private (Or just some pages)
Register option & Forget password page
Google & Facebook Login (New)
Recaptcha 2
Email domain check in the register
Role select option in the register form
User Approval (using a plugin)
Buddypress Xprofile fields in the registration

Widgets

Widgetized Dashboard
10 + Custom widgets (Poll, Chat..)
Right Sidebar (toggle control)
Widgetized Footer
Unlimited sidebars

BBpress Forum

Unlimited forums
Included widgets
Topics & Tags
Forum Statistics

Learndash (plugin is not included)

Online Courses
Topics
Lessons
Quizzes
Certificates
Custom Shortcode in the page builder
Buddypress integration
Frontend Edit / Creation
All the features here : http://www.learndash.com/

Built-in SLACK Extension (Read our announcement)
Woocommerce Shop

Custom cart
Custom shortcode
Best Ecommerce plugin
Custom design

Multilanguage support (WPML)
Already translated in English, French, Spanish, German, Persian, Russian, Japanese, Portuguese, Italian
Multisite Support
Directory extension (for Jobs, items, partners…), see presentation page
Rtmedia compatible for galleries and files sharing
Gravity Forms support
Revolution Slider in the title box (Revolution Slider is included for free, NEW!)
Frontend Edit/Creation for blog posts
Masonry layout for the Blog
Trello integration
Birthdays extension
Instant search
RTL Support
Powered by Unyson framework
Material Design inspired
Horizontal Menu option
Built with HTML5 & CSS3
Clean & Commented code
Extrafooter option with faces an custom message/link
Megamenu extension
Sub Menu
Maintenance & Coming Soon extension
Auto Updater
Gantt graph
600 + Icons (Font Awesome)
Captioned documentation with video
BigBlueButton Web video conferencing
Oembed activity
Breadcrumb
Well there is a lot of other features but that's a good start. You can also take a look on the changelog below you'll see detailed features added in the last weeks.
Works with thousands WordPress plugins, endless possibilities!
Here is a small list of a few awesome plugins perfectly integrated with Woffice (we added custom style so it looks awesome with Woffice) :
Forum : BBpress! bbPress is forum software with a twist from the creators of WordPress. Easily setup discussion forums inside your WordPress.org powered site.
Courses & Online teaching : Learndash! Finally, a featured-packed LMS without all of the clunky set-up. Easily create and sell courses, deliver quizzes, award certificates, and download user reports. (Premium, not included in Woffice license)
Online shop : Woocommerce! Powers over 30% of all online stores. WooCommerce is now the most popular eCommerce platform on the web
Live Chat : Wisechat! Advanced chat plugin for WordPress. It requires no server, supports multiple channels, bad words filtering, appearance settings, bans and more.
Facebook login : Nextend! One click registration & login plugin for Facebook? Easy installation? Is it totally free and comes with support? Yeah!
Charts and Graphs : Visualizer! A simple, easy to use and quite powerful tool to create, manage and embed interactive charts into your WordPress posts and pages.
Approve new users : New User Approve! New User Approve allows a site administrator to approve a user before they are able to login to the site.
Premium Membership : PaidMembershipPro! Unlimited levels, recurring payments, protected member content and robust member management.
Sliders : Revolution Slider! Slider Revolution is an innovative, responsive WordPress Slider Plugin that displays your content the beautiful way. Whether it's a Slider, Carousel, Hero Scene or even a whole Front Page, the visual, drag & drop editor will let you tell your own stories in no time! (Premium, not included in Woffice license)
Albums & Video : Rtmedia! Add albums, photo, audio/video encoding, privacy, sharing, front-end uploads & more. All this works on mobile/tablets devices.
Badges : BadgeOS & Credly! BadgeOS? is a powerful free plugin to WordPress that lets you easily create achievements and issue sharable badges as your users succeed.
Files management : File Away! Upload, manage, and display files from your server directories or page attachments in stylized lists or sortable data tables.
Forms : Gravity Forms! Advanced Forms for WordPress Websites Just Don't Get Any Easier than Gravity Forms. (Premium, not included in Woffice license)
Cache : WP Super Cache! A very fast caching engine for WordPress that produces static html files.
Calendar / Events : EventON! Provide a stylish, eye-catching, and powerful calendar solution for your viewers and audience. (Premium, Included in Woffice license with 1 addon)
Theme Translation
The theme (.po file) is currently translated in English, French, Spanish, German, Persian, Russian, Japanese, Portuguese, Italian, Bulgarian…Complete RTL support as well.
A great product : Support & Updates
And best of all our turnaround time is between 4 – 8hrs! We are committed to providing weekly updates & bug fixes – you can find a full Changelog below.